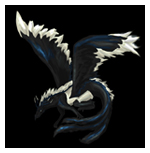 Strength: **
Defense: ***
Speed: ****
Endurance: **
Agility: *****
Arcane: **
Ladon
is my name.
I'm really old, both in dragons' and two legged's standards. But for the record, I will just say that I am
360 years old in
human
years
… Don't look at me like that! 'Mnot
that
old! I'm a
male
, and a proud one at that. And I'm a
Magpie
dragon, you would have to be blind if you don't recognize one.
I was a dragon with no ties, until I met my current rider,
Silver
. I first met him when I was hunting for food near the mountains, he was badly hurt and fighting off a demon, I couldn't let him be, my conscience wouldn't allow it, since he was only a six-year-old foolish boy... I dislike two-legs, but that doesn't mean that I'll allow some demon to kill a child.
My scales are
black as the midnight sky, the tips of my wings are startlingly white compared to the rest of my body, my left ear is tipped with white
… Oh! And
the tips of my tail too. My body bears various silvery rune markings
(thanks to the lovely abuse of my rider's Stele, but I'm not complaining, it saved me numerous times, and because of it, I'm scar-free). I sometimes wear a light saddle (my rider prefers to ride with it, but I find it itchy!) and a black armor that covers all of my body, but it's heavy so we usually don't use it. Strange things happen whenever I'm near the mountains...
I am silent as the shadows we hunt, provoke me and you're
dead
, just warning you! I love to tease and play pranks on two-legs. I enjoy spending my time with other dragons (although that doesn't happen that often), I'm quick to make friends and I warm up to people real quick! I absolutely enjoy slaying demons… But they smell nasty…
I hate it when my sleep gets interrupted for whatever reason there is, I dislike sweets, towns, places crowded with two-legs. I
loath
being earth-bound… there's no end to this list!