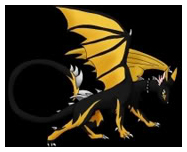 Name: Temero
Age: 50 (10/29)
Gender: Male
Type Of Dragon:Wolf Dragon
Relation To Any Non-Dragon: None yet, and considering he's part of ME it's probably safe to say he'll never have a human companion.
Likes/Dislikes: Temero is a rather finicky dragon, he likes some people, but hates others being very big on first impressions. He likes being left alone most of all, and absolutely hates being in a crowd unless it is of dragons. Other dragons are put up with far more easily than humans, with the most ditzy dragon (he hates that sort of bubbly personality, drives him crazy) falling only slightly below the most serious and respected human. No, it isn't fair, but when is life ever that way?
Description:
On the surface Temero may seem like a nice dragon, but that is only if he is taken at face value. On the inside he is cold and sadistic, willing to take down anything and anyone who gets in his way. He loathes anyone who acts like an idiot in his mind, so the "ditzy blond" personality type really drives him up a wall. Temero is absolutely ruthless, and because of this does not have many friends and does not take orders well, but neither does he care about being punished for failing to do so. He could be beaten into the ground and simply laugh in the face of his attacker. The pain is felt certainly but not paid much attention to.
There is one exception he makes about others however. If someone can earn his respect (usually by standing up to him without a problem or otherwise not being bothered by his attitude) he can get along with that person/dragon pretty well. Otherwise grudging acceptance to your presence is about as good as things are going to get. This isn't to say that he won't lend a hand and help keep others safe, but don't expect him to be happy about it. At all. In fact, go ahead and expect to at least be made fun of. He hates feeling as though he has failed someone, so if he tries to save a person and is unable to his mood will be very foul for a while after that but he will actually be nicer to other people during this time period because he feels guilty and hates himself.
Humans beware, Temero absolutely hates people because he sees them as the bane of a dragon's existence. Even though his meetings with them are spoiled by him and usually not by any issues on their part, he can never seem to get along with a human and that only serves to reinforce his mental image of them. Now if a person isn't strictly human (i.e. a demon or an elf) he will offer a bit more leeway and not be so hostile right out of the gate, but it isn't by a very large margin. Needless to say, it's better to leave him alone than anything else.